Kiko Network commets on the release of the IPCC climate impacts report
"This is not an issue somewhere far away, but an issue for us here."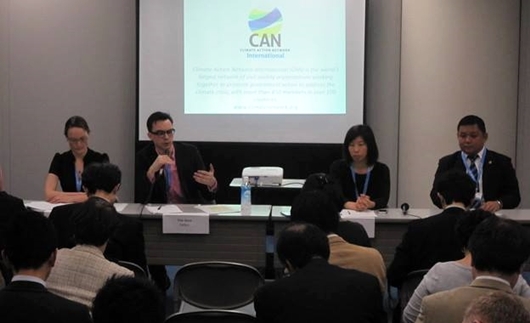 Press Briefing, 30 March, 2014
Statement by Kimiko Hirata, Kiko Network, Japan
Asia is the most vulnerable continent to climate change, but it is not just developing countries in the region which are affected. Japan is already experiencing climate change and faces severe risks.
Already, the seasons are changing - cherry blossoms are blooming early, heat waves and changing climate have placed our elderly and young people, plants and animals under stress. These changes affect our communities and our agriculture and fishery industries, but not only that, affect our very cultural identity through the way we relate to the seasons.
As the planet warms, Japan faces the risk of increased floods, heat waves, and intense typhoons. The infrastructure of large cities, such as Tokyo and Yokohama, could be affected. This city is already considered one of the top 10 risky cities to extreme weather events according to a recent insurance industry report.
The IPCC report also shows how climate change impacts can travel beyond the countries. Japan imports about 60% of its food from overseas, thus climate impacts, like poor crops yields in other countries, will boost the price of food here - with inevitable negative consequences on our economy. This is not an issue somewhere far away, but an issue for us here.
The report tells us that even with 2 degrees warming, there will be serious consequences, and we have to prepare ourselves for that. Next year, Japan will release its national adaptation plan which will be an opportunity to get this right. There is, however, a limit to adaptation. The report points out that without a concerted effort to reduce emissions, our effort to adapt won't be sufficient to protect our health or food security.
Therefore, reducing emissions is crucially important. The more we reduce emissions, the more lives we can save. Japan's contribution to the global effort has to be ramped up. In the short term, Japan wants to increase its emissions. This is unacceptable. It is the complete opposite of what needs to happen. Given this report is being born in Yokohama, I would urge Prime Minister Abe and Environmental Minister Ishihara to read it carefully and act upon it. They must make smart policy choices, and take serious actions now to help the people of Japan and of the world.