(To read the Japanese version of this article on our blog, please click here.)
Appealing for Climate Change Action, British Embassy Workers to Embark on Tough Mount Fuji Challenge
Funds raised will be donated to Kiko Network
Two employees at the British Embassy in Tokyo have devised an ambitious plan for a charity event: They want to cycle 130 kilometers from their workplace to the Fifth Station of Mount Fuji, hike from there to the summit, then descend again and return to Tokyo — all within 48 hours.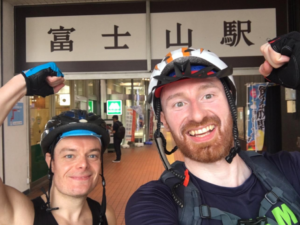 They have come up with this challenge on their own initiative next to their regular work and duties, as part of the so-called "UK in Japan 2019-2020″ campaign "highlighting the breadth of the UK relationship with Japan, from culture to business." The money collected through this event will be donated to three NGOs, two British and one Japanese. The Japanese NGO chosen is Kiko Network.
The two minds behind this cycling event are David Mulholland (33), Head of Events, Olympics, Paralympics and Rugby World Cup at the British Embassy Tokyo, and James Carter (32), Senior Global Sports Liaison Officer. Through this challenge, they want to raise awareness of and appeal for action towards climate change, and collect funds with the help of supporters of this aim.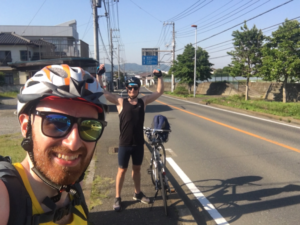 The event will take place from September 9th to September 10th. With feelings of gratitude at their passion and spirit, Kiko Network wishes David and James all the best and success in their challenge. It is likely still going to be hot in September, so please take care! To everyone else, we kindly ask for your support with donations.
David said 'It has been amazing to see the response so far from our family, friends and colleagues who have shown support towards our challenge. I think the biggest reason for this is everyone knows climate change is one of the biggest and most urgent issues facing our modern society. By taking on a challenge a tough as this it gives others a chance to also do something to tackle it through their donations, and that is incredibly rewarding and humbling to see. Through doing this, I hope we will inspire many people to think about getting outdoors, using the momentum of a bicycle or their own feet to take them on their own adventure, with minimal impact to the environment.'
James said 'I have always understood the need to tackle climate change, but in my current role working with sports teams as they prepare for Tokyo2020, I am more aware than ever of the effect climate change is having on the planet, and the need to take action. This is quite possibly the hardest challenge David and I have ever set ourselves, but we feel it represents the challenge we all face in curbing the damaging effect we are having on the planet. I'm thankful for all the tremendous support people are showing to what we are doing, and I hope it translates into more positive awareness and action.'
More details to be found in both Japanese and English on this page:
https://www.justgiving.com/crowdfunding/mtfujichallenge
Challenge details:
Date: September 9th to 10th, 2019

By bicycle from the British Embassy Tokyo to Mount Fuji (approximately 130km)

Hike to the summit (3,776m elevation)

Return by bicycle from Mount Fuji to the British Embassy Tokyo (approximately 130km)

Finish within 48 hours