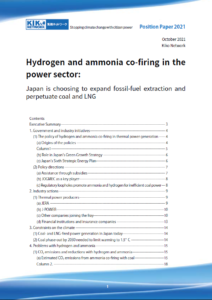 On October 27, 2021, Kiko Network released the position paper "Hydrogen and ammonia co-firing in the power sector: Japan is choosing to expand fossil-fuel extraction and perpetuate coal and LNG".
In order to achieve carbon neutrality, the Japanese government has announced a policy of using hydrogen and ammonia as fuel sources while maintaining thermal power generation systems, and related companies have been developing their businesses in this direction through large subsidies. However, most of these projects are producing hydrogen and ammonia from natural gas and lignite in Southeast Asia, North America, Russia, Australia, etc., and in reality are just new fossil fuel development projects.
To achieve the 1.5°C goal of the Paris Agreement, developed countries must abolish coal-fired power generation by 2030 and decarbonize their power sectors by 2035. In light of this, this position paper outlines the following challenges for hydrogen and ammonia power generation:
Although it is claimed that CO

2

emissions from the production of hydrogen and ammonia will be reduced through carbon capture utilization and storage (CCUS), production will result in emissions until CCUS can be put to practical use. Currently, there are many issues with the practical application of CCUS yet to be addressed.

Even if the co-firing of ammonia or hydrogen becomes possible, they will be burned along with fossil fuels, and large amounts of CO

2

will continue to be emitted.

The technology required to use hydrogen and ammonia as fuel sources is extremely expensive, and as decarbonization accelerates and the cost of renewable energy declines, its value will decline, posing a risk of stranded assets.
Report Download 
Hydrogen and ammonia co-firing in the power sector: Japan is choosing to expand fossil-fuel extraction and perpetuate coal and LNG
Contacts
Email.tokyo@kikonet.org