Additional Analysis
Analysis of Japan's government policy to shut down or mothball 100 "inefficient" coal power units:
Government's proposed policy would extend the life of coal, not phase it out
July 6, 2020
Kiko Network
To supplement July 2's press release "Comment on the reported government policy shutting down 100 coal units : Coal-fired Power Must be Completely Phased Out by 2030," Kiko Network has created its own additional analysis.
The Japanese government's policy of shutting down or mothballing the equivalent of 20 GW in "inefficient" coal-fired power generation could be seen as the government's first concrete actions to restrict the use of Japan's excessive number of old, inefficient coal-fired power generation facilities.
However, the government will continue allowing about 35 GW of coal power generation to remain active even after 2030 if 10% of existing "inefficient" coal-fired power plants and 26 existing "high-efficiency" coal power units continue operating beyond 2030, in addition to the new coal-fired power plants that started operating in FY2019 and the new units currently under construction (both of which are not included in the government's current tally of 140 units).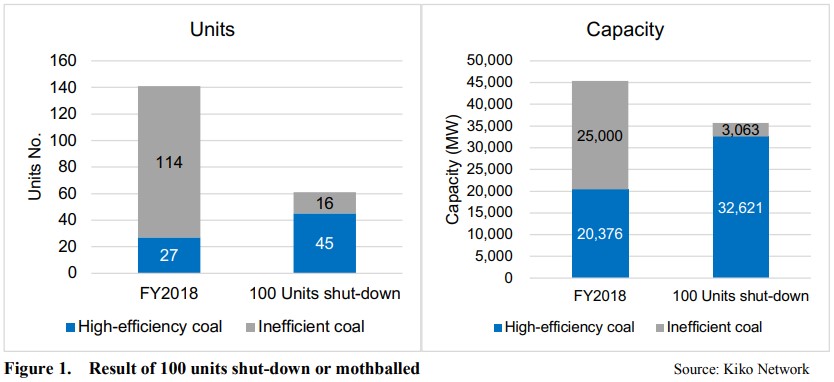 The CO

2

emission reductions from the reported policy would range from an estimated 64 million to 122 million tons of CO

2

(about 5-10% of Japan's total greenhouse gas emissions). 
Japan's domestic coal consumption would see a reduction of approximately 35-40% compared to FY2018.
The ratio of coal in the 2030 energy mix would range from 24% to 27%, which would be lower than the current 32% but still be around the same as the government's current projection of 26% for 2030. 
The proposed policies are about the same as the 26% in Japan's current Strategic Energy Plan and a far cry from the complete coal phase-out required of developed countries by 2030 to be consistent with the goals of the Paris Agreement. 
As the proposed policy includes "mothballing" operations rather than retiring coal-powered generating units, their costs could potentially be covered by the electricity "capacity market," which blurs the path to retire them by 2030.
In addressing the climate crisis, the policy direction presented is a completely inadequate response by a government that is a signatory to the Paris Agreement. We call upon the Japanese government to take the following actions:

Commit to a target of completely phasing out coal power by 2030.

Step up to regulate new coal-fired power generation projects, which are a significant risk of becoming stranded assets in the future.

Prepare a plan for a staged but rapid phase-out of coal power between now and 2030. 

Retire coal power plants-don't simply mothball operations.

Significantly accelerate the introduction of renewables as alternative energy sources by adopting more proactive policies, avoiding the creation of barriers such as tariffs on renewable power producers, and providing priority dispatch for renewables to the power grid.
Additional Analysis (Full Report, 6 pages)
Analysis of Japan's government policy to shut down or mothball 100 "inefficient" coal power units: Government's proposed policy would extend the life of coal, not phase it out
1. Status of Coal-Fired Power Plants
2. What the government's policy for the shut-down or mothballing of 100 units means
(1)Number of units and installed capacity
(2)Ratio of "inefficient" coal-fired power generation of all facilities for each power company
(3)Impact on CO2 emissions and coal consumption
(4)Impact on Japan's energy mix
(5)Impact on 2050 targets
3. Government policy's problems and remedies
 
Related Links:
Press Release(July 2, 2020)
[Press Release] Comment on the reported government policy shutting down 100 coal units : Coal-fired Power Must be Completely Phased Out by 2030 (2020/7/2)
Contact
Kiko Network   www.kikonet.org
Tokyo Office
TEL:+81-3-3263-9210
E-mail: tokyo[@]kikonet.org
Contact Person:
Kimiko Hirata, International Director