Press Release
Nakoso IGCC has started commercial operation
Protesting the operation of new coal-fired power plants that accelerate the climate crisis
April 23, 2021
Mie Asaoka, President
  Nakoso IGCC Power GK announced that the Nakoso IGCC Power Plant (525 MW) began commercial operation on April 16, 2021. This plant, located in the city of Iwaki, Fukushima Prefecture, uses IGCC (Integrated Coal Gasification Combined Cycle) technology. While the company insists that "IGCC has the highest efficiency, with approximately 48 % (LHV)," there is no doubt that this power plant is harmful to the climate, with projected emissions of 2.62 million tons of CO2 per year (as written in the plant's environmental impact assessment documents). Therefore Kiko Network strongly protests the operation of the Nakoso IGCC power plant.
  In order to achieve the 1.5℃ goal of the Paris Agreement, it is essential to completely phase out all coal-fired power plants in developed countries by 2030. Thus, it is necessary to stop all new construction plans and gradually decommission existing plants, and IGCC plants are no exception. However, businesses entities such as TEPCO are promoting what they call "the world's most advanced coal-fired power plants" with the aim of creating an industrial base and employment opportunities to support the economic recovery of Fukushima Prefecture with the development of advanced thermal power technology. The Nakoso IGCC is one of these plants, with another identical project in Fukushima, the IGCC Hirono power station (543 MW, developed by Hirono IGCC Power GK), planned to start operation in FY2021. In addition to these, many other coal-fired power plants are under construction in Japan (see table below). If all of Japan's coal-fired power plants currently in the pipeline begin operation, the estimated annual emissions will be more than 40 million tons CO2, or 3.4% of Japan's total GHG emissions.
  Kiko Network requests entities involved in coal-fired power generation to cancel all plans for new plants, including those in the construction stage. As the severity of the climate crisis increases, now is the time to set target years for the retirement of each coal-fired power plant, to establish a concrete phase-out process, and to steadily implement it year by year.
Reference: List of power plants planned and under construction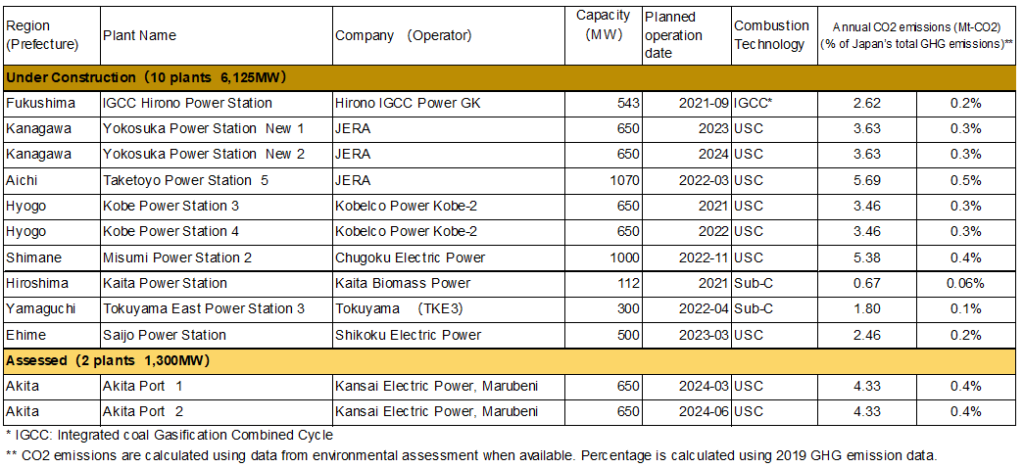 Download Press Release
[Press Release] Nakoso IGCC has started commercial operation
Protesting the operation of new coal-fired power plants that accelerate the climate crisis (PDF)
Contact
Kiko Network
Tokyo Office:
6F, Ichibancho-Murakami Bldg., 9-7, Ichibancho, Chiyoda-ku, Tokyo 102-0082, JAPAN
TEL:+81-3-3263-9210, FAX:+81-3-3263-9463, E-mail: tokyo@kikonet.org
Kyoto Office:
#305 Takakura Bldg. Takakura-dori, Shijo-agaru, Nakagyo-ku, Kyoto 604-8124, JAPAN
TEL:+81-75-254-1011, FAX:+81-75-254-1012, E-mail: kyoto@kikonet.org